Philanthropic Activities
Supporting healthier communities.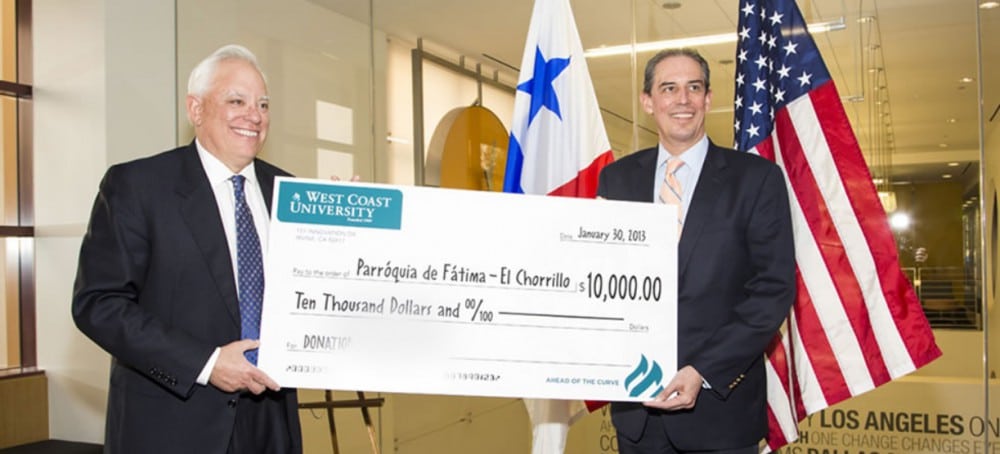 West Coast University is committed not only to the education of students, but to healthier outcomes for the communities we serve—at home and around the globe.
To this end, we work diligently to focus our philanthropic activities where they can deliver the most good. You can learn more about our charity activities and endeavors—from students volunteering their time and skills, to financial support that accelerates advancement, to supporting policy that drives change.
The following are just a few examples of community organizations West Coast University has supported financially as a part of our philanthropy and education:
Special Olympics
Special Olympics is the world's largest sports organization for children and adults with intellectual disabilities, providing year-round training and competitions to more than 4.5 million athletes in 170 countries. With more than 1.6 million free health examinations conducted in more than 130 countries, the Special Olympics Healthy Athletes® program offers health services and information to athletes in dire need.
KidWorks
KidWorks serves over 800 children, youth, and parents in Santa Ana, CA through weekly programs and over 3,000 community members annually from three learning centers. We're developing leaders who want to make a difference in their community. They're getting better grades than they used to, they're staying in school at a higher rate than their peers, and they're getting healthy and fit through nutrition and fitness classes. We believe that these young leaders can eventually transform and restore their community.
Foundation of the National Student Nurses Association
With a membership of 60,000 nationwide, the National Student Nurses' Association mentors the professional development of future registered nurses and facilitates their entrance into the profession by providing educational resources, leadership opportunities, and career guidance.
The National Health Foundation is dedicated to improving and enhancing the healthcare of the underserved by developing and supporting innovative programs that can become independently viable, provide systemic solutions to gaps in healthcare access and delivery, and have the potential to be replicated nationally.
Hospital Association of Southern California (HASC) represents hospitals across six counties including Los Angeles, Orange, and San Bernardino, with the goal of helping to improve the quality and accessibility of health services. WCU's contribution to HASC and the National Health Foundation supports recuperative care for homeless patients.
California Institute for Nursing and Healthcare (CINHC)
A statewide non-profit organization with widespread charity activities, CINHC develops solutions to a nurse shortage by partnering with nurse leaders, educators, providers, payers, policy leaders, and consumers. CINHC funding is entirely through contributions and grants, and works collaboratively with organizations and individuals concerned about ensuring an adequate supply of nurses and developing leaders in the field for the future.
International Federation Red Cross
The International Federation of Red Cross (IFRC) is the world's largest humanitarian and development network, with millions of volunteers in 189 member National Societies. A secretariat in Geneva and more than 60 delegations strategically located to support activities around the world. There are more societies in formation.
Vision of Hope
Vision of Hope provides financial support for inner-city schools in Los Angeles, and is sponsored by the Dominican Sisters of Mission San Jose. Vision of Hope's mission is to ensure the quality, affordability and vibrant future of the schools, the children and the communities they serve, providing hope and empowerment through a quality education.
Children's Hospital of Orange County (CHOC)
On a daily basis, CHOC Children's Hospital performs life-saving procedures, caring for the children of Orange County with the greatest health care needs. CHOC offers many primary and specialty care clinics, a pediatric residency program, and four centers of excellence – The CHOC Children's Heart, Cancer, Neuroscience, and Orthopedic Institutes.
Miami Children's Hospital, Florida
Nicklaus Children's Hospital, formerly Miami Children's, is one of the best children's hospitals in the nation, renowned for excellence in pediatric medicine. Nicklaus Children's Hospital is South Florida's only licensed specialty hospital exclusively for children with more than 650 attending physicians and more than 130 pediatric sub-specialists.
Cook Children's Medical Center
An award-winning medical center with Magnet designation provides state-of-the-art technology to more than 30 specialties and subspecialties. Cook Children's Medical Center, licensed by the State of Texas and accredited by The Joint Commission, is ranked in the top 7 percent of the nation's hospitals for its nursing excellence.
Dental Hygiene Clinic
West Coast University's no cost Dental Hygiene Clinic serves everyone in the community from children to geriatric to special needs patients. Designed to provide patients with a quality experience, the clinic works to improve the dental health of those who may not have the means to visit a private practice dental facility for dental hygiene preventative and therapeutic care. This technologically advanced facility offers significant benefits to the community: