Financial Aid FAQs for Online Students
Grants & Scholarships
Does West Coast University offer any grants or scholarships?
West Coast University offers several scholarship and grant opportunities to students who qualify. To be eligible for WCU scholarships or grants, students must be admitted to the university and meet any fund-specific eligibility requirements. Unless otherwise noted, all WCU scholarships and grants are applied toward university tuition and fees. Funds are limited and not all who apply will receive an offer. See our list of online division scholarships and grants.
See our list of online division scholarships and grants.
Will grants and scholarships cover the full program costs?
Total program costs may vary based on factors such as transfer credits and the number of courses attempted versus successfully completed. During the packaging appointment, a WCU financial aid officer will help you create a plan to cover the costs for your first academic year.  While grants and scholarships may be included in that plan for those who qualify, the financial aid officer will present additional options as there is generally a balance remaining that is not covered by institutional funds.
Do I qualify for grants or scholarships if I am a graduate student?
Read about our online division scholarships and grants to determine which ones are available to prospective graduate students.
What is the Alumni Pathway Grant, and how much will my program cost with the Alumni Discount? 
The Alumni Pathway Grant is available to West Coast University or American Career College alumni who enroll in online programs. Grant amounts will vary but will not exceed 20% of tuition charges each term.
The tuition costs for distance education programs can be found here:
What is the Performance Grant and how much is it? 
The WCU Performance Scholarship is a merit-based program available for students enrolled in a WCU online degree program and who meet the scholarship eligibility requirements. Scholarships for approved applicants may be offered as a 15% reduction of tuition for the program incurred for each academic year.
The tuition costs for distance education programs can be found here:
Program Costs & Payment Options
What does cost of attendance include? Am I required to pay West Coast University for transportation and housing?
Cost of attendance is the estimated amount it will cost a student to go to school. The total cost of attendance includes direct and indirect costs. Direct costs are items that will appear on your university bills, such as tuition and fees, which are paid directly to West Cost University. Indirect costs will not appear on your bill but are estimated costs associated with going to college, such as transportation and housing. Indirect costs are estimated to help students prepare a personal budget and financing plan.
How much are the tuition and fees per term if I opt for a cash payment plan? Are there installment plans available?
Tuition for the program selected is due by the start of the semester or trimester unless alternative arrangements have been made with the Financial Aid or Bursar Office. Payments may be made by credit card, debit card, wire transfer, check, or money order made payable to West Coast University. Payments may be automatically debited from a valid pre-authorized credit card or submitted electronically each month on our secure student portal.
Students enrolled in distance education programs are billed for tuition and fees based on cost per credit hour. As a result, costs vary based on individual student schedules.
One option to pay for programs costs is a payment plan. West Coast University offers interest-free payment plans that allow annual tuition costs to be paid over the course of each academic year. To calculate the monthly amount, the balance is divided into seven equal payments and must be paid on time each month. Students who opt to continue with cash payments in subsequent academic years must have their balance paid in full at the end of the current academic year.
Can I pay a down payment to reduce my monthly payment obligation?
West Coast University offers interest-free payment plans that allow annual tuition costs to be paid over the course of each academic year. Opting to pay a down payment will reduce your remaining balance and lower your monthly payment obligation as long as payments are timely.
Are private loans an option to cover costs?
Private loans are available to students through various lending institutions to help pay educational expenses. Private loans, which are not insured by the federal government, have repayment terms that vary depending on the lender from which you borrow. West Coast University encourages students to explore federal and state grants and loans, and to consider the anticipated monthly loan payments along with expected future earnings before considering a private education loan.
West Coast University does not make any recommendations regarding private lender selection for students who decide to pursue private loan options. Students may borrow from any lender. Be sure to research and review each lender's terms and conditions before making a final decision. A list of lenders previously used by WCU students is available, along with terms and conditions for each private lender.
What is tuition reimbursement, and how does it work? 
Tuition reimbursement (also known as tuition assistance) is an employee benefit through which an employer pays for a pre-determined amount of the employee's continuing education credits or college coursework to be applied toward a degree. These programs are intended for employees looking to advance their education as it relates to their current career track. Tuition reimbursement programs give employees the chance to increase their industry knowledge and develop advanced skills.
Students utilizing tuition reimbursement are required to sign a payment contract with West Coast University for tuition and fees. Questions about potential tuition reimbursement should be directed to your employer.
Are military members get reduced tuition?
Yes, West Coast University offers a reduced tuition rate for members of the veterans, active military personnel, and their spouses. You may also be able to access programs such as the Department of Defense Tuition Assistance Program, the Post 9/11 GI Bill® Yellow Ribbon Program, and the Top-Up Benefit Program. Learn more on our Military Benefits Discount page.
Am I required to purchase eBooks?  Is there an option to opt out of eBooks?
The technology fees include required electronic course materials, including eBooks. Students may opt out and purchase books on their own. A notification is sent each term with instructions detailing how students may "opt out" of using eBooks.
Federal Student Aid
I borrowed federal student loans for my undergraduate program. Am I eligible for additional funding for my graduate program?
The U.S. Department of Education's federal student loan program is the William D. Ford Federal Direct Loan Program. Under this program, the U.S. Department of Education is your lender.  There are Direct Loan options for graduate students, which can be found here.
Will taking one class per term instead of two classes impact my eligibility for federal student aid?
Eligibility for federal student aid depends on several factors, including enrollment status. The Federal Student Aid Estimator provides an estimate of what federal student aid you may be eligible to receive.  Additional information regarding the types of federal student aid available can be found here.
West Coast University offers students several options for payment of tuition. All students are encouraged to apply for financial assistance if they are unable to meet educational costs on their own. All students will have the opportunity to meet with a financial aid officer to discuss payment options.
If I start school, can I defer my federal student loans?
Students enrolled at least half-time may be eligible for an in-school deferment. Learn more about student loan deferment.
What is the school code for West Coast University? Where do I enter the school code on my FAFSA?
The school code is 036983 for all West Coast University programs and campuses. Enter it as shown below on your FAFSA.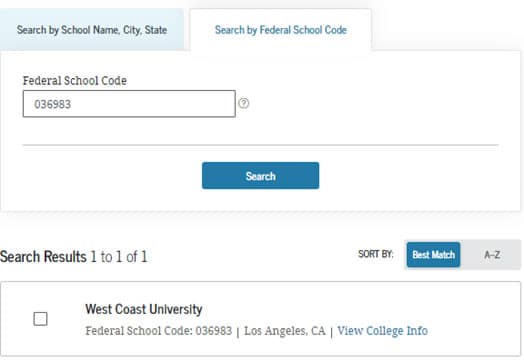 If I have been granted Deferred Action for Child Arrivals (DACA), am I eligible for federal student aid?
Undocumented students, including DACA recipients, are not eligible for federal student aid.
The IRS data retrieval tool is not working. How can I retrieve my tax information to complete the FAFSA?
An IRS tax return transcript may be requested online or by phone. To get transcripts online, visit www.irs.gov, click "Get Your Tax Record," and then click "Get a Transcript Online." To request tax information by phone, call 1-800-908-9946.
I am still enrolled at another school but am interested in transferring to West Coast University. Will that impact my eligibility for federal student aid?
There are a variety of factors that will affect the amount and types of aid you may be eligible for when you transfer to a new school. More information for a student who is considering transferring to West Coast University can be found here.
I have questions about the information requested on the FAFSA. Who can I contact?
You can get help with your FAFSA form by contacting the Federal Student Aid Information Center at 1-800-4-FED-AID (1-800-433-3243).
How do I know that my FAFSA was successfully submitted?
After you successfully submit your FAFSA form, you'll receive a "Confirmation" page with a confirmation number. Your confirmation number is proof that you successfully submitted your FAFSA form or correction. Print a copy of your confirmation page for your records. If you provided an email address on your FAFSA form or correction, the system will automatically email you your confirmation information.
To check the status of your FAFSA form, do the following:
Log in to fafsa.gov.
Select that you are a student.
Select "Continue."
Your FAFSA status can be found on the "My FAFSA" page, which you'll see right after you log in if you have started or completed a FAFSA form.
You can also check the status of your FAFSA form by contacting the Federal Student Aid Information Center at 1-800-4-FED-AID (1-800-433-3243).
Can I get my financial aid award adjusted if my circumstances change?
If you had an unusual change in circumstances such as a decrease in income, a change in family size, or a change in dependency status, you may be eligible to have your financial aid award adjusted. To have your circumstances reviewed for this purpose, you must submit a professional judgment request with the Financial Aid office. If approved, our financial aid officers will be able to update the data used to calculate your Expected Family Contribution (EFC), which can potentially result in a revised financial aid package. Learn about our professional judgment policy.