Master of Science in Clinical Mental Health Counseling Program
Learn how to help people cope, heal, and thrive through our clinical mental health counseling program, which is available online and in a blended format.
Apply Now
10 Weeks
10-week terms allow for 5 start dates throughout the year
29 Months
Finish the program in less than 2.5 years
60 Credits
Complete 60 credits to earn your degree
Program Highlights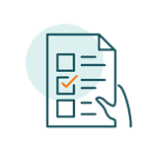 CACREP-aligned program that has been designed to reflect professional standards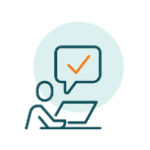 Online and blended options allowing you to choose the learning method that works best for you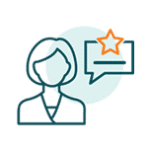 Seminars and round-table discussions on leading-edge topics provided by influential leaders in the field of counseling
Assistance with practicum/internship placements and career support services that extend beyond graduation
Explore the MSCMHC program at WCU!
Why Earn a Master's in Clinical Mental Health Counseling?
Are you passionate about making a difference? Want to help people overcome life's challenges so they can live healthier and more fulfilling lives? Then you may be a good candidate for our mental health counseling master's program where you can learn how to help clients cope with issues such as anxiety, depression, addiction, and post-traumatic stress, and prepare yourself to provide equitable and affirmative mental health care to all who need it.
At a time when we are still locally, nationally, and globally trying to recover from the impact of the COVID-19 pandemic and grappling with continued social unrest, there is an increased need for mental health counselors.1 Our Master of Science in Clinical Mental Health Counseling program will prepare you for a career in counseling through an innovative curriculum that emphasizes intersectionality, mental health advocacy, and treatment of the whole person through one-on-one connections. You can choose an online or blended model, with blended including both online and on-campus learning.
Overview: MS in Clinical Mental Health Counseling Program
Program Details
We know you're eager to make a difference, and that's why we created a mental health counseling master's program that you can complete in less than 2.5 years. Learn more about the program below.
Program Pace
Distance Education/Online & Blended
Curriculum
Course Number
Course Name
Total Credit Hours
Number
Name
Hours
CMHC 505
Foundations of Clinical Mental Health and Counseling
3
CMHC 510
Professional Orientation: Legal and Ethical Issues in Counseling
3
CMHC 515
Counseling Theories and Practice
3
CMHC 520
Crisis/Trauma Response and Intervention
3
CMHC 525
Social and Cultural Foundations
3
CMHC 530
Individual Counseling Skills and Practice w/ Immersive I
3
CMHC 535
Human Growth and Development
3
CMHC 545
Career and Lifestyle Assessment
3
CMHC 550
Couples, Marriage, and Family Counseling
3
CMHC 560
Research Design and Program Evaluation
3
CMHC 645
Group Counseling and Practice
3
CMHC 650
Addictions and Substance Abuse Counseling
3
CMHC 655
Human Sexuality
3
CMHC 665
Psychopathology
3
CMHC 670
Individual Evaluation and Assessment
3
CMHC 683
Contemporary Topics Advanced Skills, Theories and Ethics w/ Immersive II
3
CMHC 685
Fieldwork Practicum
3
CMHC 690A
Fieldwork: Internship I
2
CMHC 690B
Fieldwork: Internship II
2
CMHC 690C
Fieldwork: Internship III
2
Total Credit Hours:
60
Tuition & Financial Aid
How Much Does the Master of Science in Clinical Mental Health Counseling Program Cost?
We know school is a substantial commitment. At WCU, we want to equip you with all the information you need to make the right decision for your future.
Our goal is to give you a clear understanding of Master of Science in Clinical Mental Health Counseling tuition costs so you can be well-informed as you navigate the application and enrollment process. To assist you in your decision, we provide a breakdown below of the Master of Science in Clinical Mental Health Counseling program costs at West Coast University.
We offer several financial aid options — including scholarships, grants, and loan access — to help support you through your studies. We also offer reduced tuition rates for military personnel and their spouses. For more information about your financial support options, visit our financial aid page.
Program Costs
Non-Military
Military
Total Semesters
6
6
Total Credits
60
60
Tuition Cost per Unit
$650.00
$553.00
Total Tuition Cost:
$39,000.00
$33,180.00
STRF Fee (Non-Refundable) 1:
$105.00
$92.50
Estimate for Technology Fee ($500 per Semester) 2
$3,000.00
$3,000.00
Estimate for Program Fees 3
$400.00
$400.00
Total Program Costs (Non-CA Residents):
$42,400.00
$36,580.00
Total Program Costs (CA Residents):
$42,505.00
$36,672.50
Admission Requirements
A student applying for admission to the MSCMHC program at West Coast University must:
Have a baccalaureate degree from an accredited institution with a 3.0 cumulative GPA or higher
Submit a copy of official transcripts and/or International Transcript Evaluation, prior to the end of the add/drop period of the first term
Provide a Statement of Purpose
Provide two (2) professional letters of recommendation
Complete the Interview Process
Complete an enrollment agreement, consisting of program policies, costs, completion requirements, and other student obligations, if accepted into the program
Probationary Admissions Requirements
Applicants with an undergraduate GPA of 2.79-2.99 may be considered for probationary admission after meeting the following admissions requirements:
The applicant must provide a letter of intent.
The applicant must be approved for admission following an interview with the Program Director/Dean.
The applicant must satisfy program prerequisites.
A student admitted under the probationary admissions pathway must achieve a cumulative GPA of 3.0 on all coursework attempted over the first semester (two terms). Students who meet this standard will be converted to a full admit status and will be subject to the standard Satisfactory Academic Progress requirement for the duration of their program. Students failing to meet this requirement by the end of the first semester (two terms) will be withdrawn from the university.
Students accepted under the probationary admissions pathway will be considered regular students and eligible for Title IV, if the student otherwise qualifies for funding, for the first semester of their program of study while completing the requirements for full admission to their program.
Clinical Placements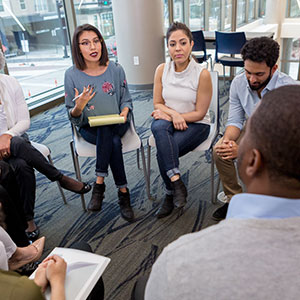 In our MS in Clinical Mental Health Counseling program, you will be required to complete 135 hours of supervised clinical practicum and 600 hours of internship that do not count toward the licensed professional counselor intern (LPCI) hours required within your state.
Our team can help you identify clinical sites that align with the practicum and internship requirements of our program. Not only will we assist with the process of obtaining clinical site approval, but we'll also provide compliance training and general support for your clinical experiences.
We're here to help you gain the hands-on experience you need to prepare yourself for a career in clinical mental health counseling!
Career Services
At WCU, we want to help put our students on the path to success. That's why we offer one-on-one support to help them prepare for life after graduation.
Our Career Services team is here to provide you with career planning services, professional development workshops tailored for your field of study, and assistance finding job leads, including those that could help you fulfill the licensed professional counselor internship (LCPI) hours that are required for state licensure.2
As a WCU graduate, you'll have access to our career services for life!
Learning Outcomes
Upon successful completion of the program, the MS in Clinical Mental Health Counseling students will be able to:
Cultivate a Professional Identity: The program helps students establish a strong professional identity as clinical mental health counselors who prioritize the value of the therapeutic relationship as a critical pathway to facilitate healing, empowerment, and the emotional and mental well-being of their clients. Moreover, students will learn to build counseling relationships from a strength-based, intergenerational trauma-informed perspective rather than a deficit or pathological approach.
Develop Comprehensive Knowledge and Competence: The program prepares students to gain a broad and comprehensive understanding of essential areas in the counseling field, including ethical and legal behaviors, developmental theories, clinical interventions, psychopharmacology, substance use disorders, addictive behaviors, human sexuality, crisis and trauma, career counseling, psychopathology, and culturally competent assessment and evaluation methods.
Apply Evidence-Based Interventions: The program prepares students to solely rely on evidence-based interventions for substance use disorders, addictive behaviors, co-occurring disorders, trauma, and various mental health conditions, while always considering cultural competencies and diversity to enhance the effectiveness of their clinical practice.
Cultivate a Culturally Competent Identity: The program helps students to establish a professional identity as culturally competent clinical mental health counselors, emphasizing the use of the therapeutic relationship to promote healing, empowerment, and emotional and mental well-being while working effectively and affirmatively with diverse individuals, couples, families, and communities.
Demonstrate Proficiency in Clinical Skills: The program teaches students how to use effective and affirmative clinical skills when working with individuals, couples, families, and groups and communities across the lifespan. Students will develop expertise in providing comprehensive and culturally competent mental health services to clients from diverse backgrounds.
Foster a commitment to social justice and advocacy: The program compels students to become social justice advocates and clinical mental health professionals who serve their communities in various capacities, including clinical practice, administrative roles, and other leadership positions. Students will use their counseling knowledge, attitudes, and skills to contribute positively and effectively to the well-being and positive development of the broader community.
Featured Faculty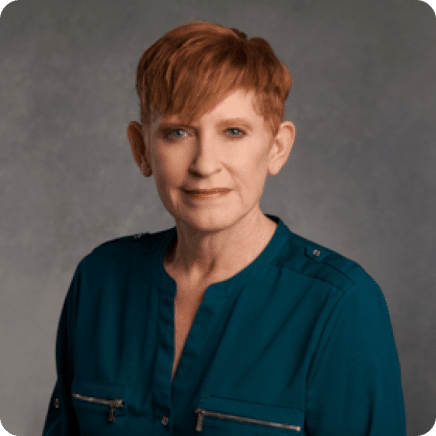 Colleen R. Logan, PhD, LPC-S, NCC
Dean/Program Director, Counseling
Dr. Colleen R. Logan is the Dean of the Master of Science in Clinical Mental Health Counseling program at West Coast University. Dr. Logan is a past President of the American Counseling Association and brings decades of experience in clinical counseling and administrative leadership within the higher education space.
At the University of Houston-Victoria, Argosy University, Walden University, and Fielding Graduate University, Dr. Logan has held various leadership positions including Professor, Vice President of Academic Affairs, and Associate Dean of the School of Psychology and Behavioral Sciences. She has also held the title of Associate Professor at Southern Methodist University in the Department of Conflict Resolution and Counseling, as well as Program Director of the Counseling program at Barry University. In each of these positions, Dr. Logan has successfully led efforts to obtain CACREP accreditation for both master's and doctoral programs.
Dr. Logan graduated from the University of Virginia with a degree in Counselor Education in 1994. She currently holds her LPC license as a professional counselor and supervisor in the state of Texas.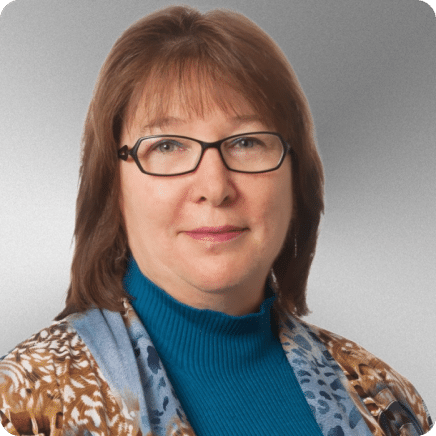 Fay Roseman, PhD
Associate Dean
Dr. Fay Roseman is the Associate Dean of Counseling at West Coast University where she oversees the online and blended mental health counseling programs. She earned her PhD in Social Work at Barry University, her MSW from New York University, and her BA in Elementary Education from Pace University.
With a variety of experiences in both the business and academic world, Dr. Roseman brings more than 20 years of experience in higher education, during which time she worked as both a faculty member and in various leadership roles.
As a faculty member and director of student teaching, Dr. Roseman served across multiple Florida counties as a professional development reviewer for the Florida Department of Education. Her service in counseling was as a member of the American Counseling Association (ACA) Awards Committee, the Knowledge & Research Committee, and the National Career Development Association Ethics Committee. Her teaching crossed social work, teacher education, and counseling. Additionally, she served as President of the Florida Marriage & Family Counseling Association.
Dr. Roseman believes in the transformative power of education and is passionate about working with students and seeing them evolve into their best selves.
Her favorite quote is: "When you step outside your comfort zone, you learn what you're truly made of. You're forced to dig deeper and face fears, which boosts your confidence, courage, and self-esteem, making you stronger for everyday life." (Karen, Prevention magazine, 2012).
FAQs
Is the MS in Clinical Mental Health Counseling program at WCU CACREP-accredited?
No. While most accreditors grant accreditation prior to program starts, CACREP requires evidence that the program and its students meet specific requirements during the accreditation process. The MS in Clinical Mental Health Counseling program is CACREP-aligned and the program will submit its CACREP self-study once the first group of students enters fieldwork in accordance with CACREP procedures. The self-study is the first step toward the formal pursuit of CACREP accreditation.
According to CACREP, "students in a program seeking accreditation shall be considered graduates of a CACREP program if they receive their degree within eighteen (18) months prior to when accreditation is conferred, and if the program can verify that the student completed the CACREP program requirements" (CACREP Policies Governing Recognition of Graduates 5.a.).
What is CACREP?
The Council for the Accreditation of Counseling and Related Educational Programs (CACREP) accredits counseling programs and educational content in a variety of specialization areas at the master's and doctoral levels. The standards for CACREP accreditation are rigorous for courses and clinical experiences. CACREP is recognized as an accreditor by the Council for Higher Education Accreditation (CHEA).
Will I be eligible for licensure or certification as a counselor without a CACREP-accredited program?
In the states where our MS in Clinical Mental Health Counseling program is available, non-accreditation by CACREP is not a barrier for licensure. Licensure and certification requirements vary across states, and many states will review your specific coursework if taken from a non-accredited program, to determine eligibility.
Students are required to contact their state licensing board or the licensing board in the state where they wish to practice with questions or concerns about licensure eligibility. Note that state licensure requirements can and do change, and you are responsible for staying current with these changes. Please reach out to our admissions team to find out if our program is available in your state.
What kind of work can I do as a mental health counselor?
Mental health counselors treat individuals, couples, families, and groups, helping them learn how to overcome a variety of mental health issues and conditions such as anxiety, depression, stress, grief, post-traumatic stress, addiction, relational conflicts, and more. The mental health counselor's responsibilities include evaluating clients and assessing their readiness for counseling, helping clients understand the issues that affect their mental health, and helping them learn coping strategies that they can implement into their day-to-day lives.3,4
Where do mental health counselors work?
Mental health counselors can work in a variety of environments, including:
Outpatient mental health and substance abuse centers
Residential mental health and substance abuse facilities
Individual and family service agencies
Hospitals
Private practice
Employee assistance programs (EAPs)
Prisons
Government facilities3,4,5
How long does it take to become a mental health counselor?
Our MS in Clinical Mental Health Counseling program can be completed in as few as 29 months; however, every state requires that a certain number of registered internship hours be completed after graduation and before you can become licensed. To provide a frame of reference, in Texas, 3,000 hours of supervised experience are required prior to licensure.6 Be sure to research the licensure requirements for your state.
Do I need a bachelor's degree in a specific field?
As long as you have your undergraduate degree and a passion to make a difference, you can apply for our program. Our curriculum is designed to teach you the tools and techniques you'll need to be an effective counselor, so you don't need to bring any previous knowledge or experience. You bring you and we'll teach you the rest!
How am I going to find a facility where I can complete my practicum and internship?
We can help! Our faculty members are counseling professionals who have worked in diverse settings in the mental health industry. As a university, we work to foster relationships with different healthcare facilities, providing potential networking opportunities for our current students and graduates. While we cannot guarantee placement, we can help you look for a facility for your practicum/internship that occurs during your program, and we can also help you find job openings that afford you the opportunity to gain the supervised hours that you must complete after graduation in order to become licensed.
What can I expect during the program? Is it a lot of work?
The course is designed to be rigorous so you can earn your license with confidence. However, courses are designed to be engaging above everything else. You will learn using innovative tools such as original video content, roundtable discussions with leading industry professionals, virtual simulations, mobile-friendly study tools, and more.
Is the program online or in-person?
We currently offer two options:
Online – Complete all your coursework online with only on-site intensives (OSIs) clinical practicum, and internship hours requiring in-person attendance. OSIs are immersive experiences where students can learn and practice counseling skills alongside other students and under guidance of faculty. OSIs take place on campus over a weekend so they can fit into busy schedules. Online students may also have access to local, in-person seminars and round-table discussions where they can learn from leaders in the field alongside classmates.
Blended – Complete part of your coursework online while still incorporating in-person learning at one of our campuses to help foster connection between peers. Students who choose the blended model can complete in-person components at either the Center for Graduate Studies campus in Los Angeles or the WCU-Texas campus in Richardson.
What kind of support will I receive in the program?
At WCU, we believe in giving you all the tools you need to succeed. You'll have 24/7 access to your online lectures and coursework, WCU's online library, and mobile-friendly learning materials such as videos, audio books, adaptive quizzes, and more. You will be able to interact closely with the program dean and associate dean. Additionally, our Career Services team will provide you with career planning, professional development, and assistance with job placements.
Is financial aid available?
You may be eligible for financial aid, scholarships, and/or grants, depending on your qualifications. Learn more about your financial options.

West Coast University is accredited by WASC Senior College of University Commission (WSCUC), a regional accreditation body recognized by the U.S. Department of Education (USDOE) and the Council on Higher Education Accreditation (CHEA). 1001 Marina Village Parkway, Suite 402 Alameda, CA 94501, (510) 748- 9001/ https://www.wscuc.org/
1Kaiser Family Foundation (KFF), "The Implications of COVID-19 for Mental Health and Substance Use," April 28, 2023
2WCU provides career guidance and assistance but cannot guarantee employment.
3Bureau of Labor Statistics, U.S. Department of Labor, Occupational Outlook Handbook, Substance Abuse, Behavioral Disorder, and Mental Health Counselors, Updated Oct. 24, 2023
4MedicalNewsToday (Healthline Media), "How can mental health counselors help?" Aug. 31, 2020
5Healthline, "What Is an EAP Counselor — and How You Can Find One," Jan. 14, 2021
6Texas Administrative Code, Title 22, Part 30, Chapter 681, Subchapter C, Rule §681.92, Accessed May 19, 2023
Financial aid and scholarships are available for those who qualify.