Associate Degree in Nursing Program in Miami
Our ADN program in Florida emphasizes hands-on learning with simulation labs that let you practice the skills you'll use as a registered nurse.
20 Months
Earn your ADN in as few as 20 months with our streamlined curriculum
Created for Current Healthcare Professionals
ADN: Science degree (bachelor's or higher) required

LPN to ADN Pathway: Unencumbered LPN license required
Up to 10 Transfer Credits for LPNs
LPNs can streamline their degree by leveraging their previous nursing education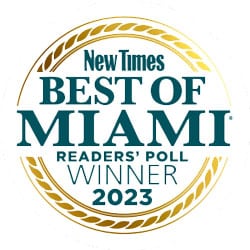 ADN Program Highlights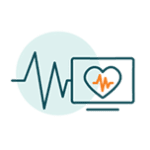 Prepare for real-life RN scenarios in our technologically advanced simulation labs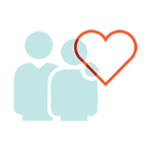 Get one-on-one support including no-cost tutoring so you can ace your classes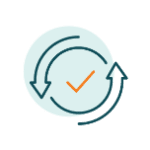 No waitlists so you can start studying now and begin making a difference sooner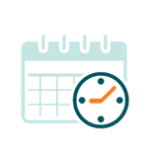 LPN pathway that allows practical nurses to earn their degree in as little as 17 months
Why Choose the ADN Program at WCU-Miami?
Our Associate Degree in Nursing is a program created specifically for career changers who already have a bachelor's degree or have previous nursing experience as a practical nurse. Reach the next step of your professional journey with our hands-on program that helps prepare you to become a registered nurse.
As an RN, you can open the door to a variety of opportunities in nursing, working in a wide range of settings, from hospitals to residential care facilities to educational institutions.1
Additionally, our LPN pathway allows LPNs to transfer eligible credit for their previous nursing education and earn their associate degree in as little as 17 months — that's less than two years!
Overview: Miami Associate Degree in Nursing Program
Program Details
Curriculum
General Education Requirements
All science courses must have been taken within the last five calendar years, unless the student possesses a degree or advanced degree in the specific field of study for which the student is seeking transfer credit. Additional information regarding transfer credit is located in the university's catalog under Transfer Credit policy or below.
Category and Requirements
WCU Course Requirements
Transferable / Options
Foundational Course
FHE 100(3): Foundations of Higher Education (Starting Spring II 2023)
Non-transferable
A. Written Communications
(3 Semester Credits Minimum)
*ENGL 140(3): Written Communication I
Equivalent to ENGL 140
D. Quantitative Literacy
(3 Semester Credits)
MATH 108(3): College Mathematics I
Equivalent to MATH 108
E. Social and Behavioral Sciences Awareness
(3 Semester Credits Minimum)
Equivalent to PSYC 160

Equivalent to PSYC 290

G. Scientific Reasoning
(12 Semester Credits Minimum)
ANAT 260(4): Human Anatomy

PHYS 261(4): Human Physiology

MICR 290(4): General Microbiology

Equivalent to ANAT 260

Non-transferable

Equivalent to MICR 290

A minimum of 24 credits is required for graduation.
*As of April 2019, this course will be delivered online, asynchronously, through the institution's Learning Management System except where otherwise authorized by the Program Dean/Director.
General Education within Area of Study
Core Nursing Courses
Course Number
Course Name
Total Credit Hours
Number
Name
Hours
PATH 370
Pathophysiology
3
NURS 103
Fundamentals of Nursing
3
NURS 104L
Fundamentals of Nursing Skills Lab
2
NURS 122
Introduction to Medical Surgical Nursing
3
NURS 123L
Introduction to Medical Surgical Nursing Practicum
3
NURS 181
Pharmacology
3
NURS 191
Physical Assessment
2
NURS 208
Medical Surgical Nursing Older Adult
3
NURS 223
Mental Health/Older Adult Nursing
3
NURS 224L
Medical Surgical & Mental Health Nursing Care of the Older Adult Practicum
3
NURS 308
Expanding and Developing Family
4
NURS 318L
Expanding and Developing Family Practicum
3
NURS 424
Principles of Leadership and Management
2
NURS 482
Advanced Medical Surgical Nursing
3
NURS 483L
Advanced Medical Surgical Nursing Practicum
3
NURS 484
Capstone
0
Total Credit Hours:
40.0
1The following courses are to be taken at WCU: FHE 100, PATH 370, PHYS 261
Program Credit Distribution
General Education Semester Credits
27.0
Core Nursing Courses
40.0
Total Program Semester Credits
67.0
Tuition & Financial Aid
How Much Does the ADN Program in Miami Cost?
We know school is a substantial commitment. At WCU, we want to equip you with all the information you need to make the right decision for your future.
Our goal is to give you a clear understanding of Associate Degree in Nursing tuition costs so you can be well-informed as you navigate the application and enrollment process. To assist you in your decision, we provide a breakdown below of the ADN program costs at West Coast University-Miami.
We offer several financial aid options — including scholarships, grants, and loan access — to help support you through your studies.
Associate Degree in Nursing
Tuition and Fees
Degree Type

Associate Degree

(Summer I 2023)

Associate Degree

(Starting Fall I 2023)

Total Program Credits
67
67
Program Length(Full-Time)
4 semesters
4 semesters
General Education Courses (per credit x 24 credits)
$599
$599
Core Courses (per credit x. 43 credits) (nursing)
$799
$799
Total Tuition Costs
$48,733
$48,733
Registration Fee (refundable)
$75
$75
Estimated Total Book Costs1
$2,838
$3,561
Estimated Total Book Shipping Cost1
$284
$356
Estimate for Uniforms Fee1
$130
$130
Estimate for Supplies & Licensure Preparation Fees1
$2,345
$2,345
Technology Fee2 ($100 per semester)
$400
$400

General Education Resource Fee3

$500
$500

Estimated Total Program Costs

$55,305
$56,100
Indirect Costs
10 Month Academic Year4
with parents
off campus
Federal Student Loan Fees
$100
$100
Course Materials (Personal Electronic Device-1st year only)

$1,000
$1,000
Living Expenses (Food & Housing)
$2,980
$9,920
Transportation
$2,060
42,060
Miscellaneous Personal Expenses
$6,740
$6,740
Total
$12,880
$19,820
1 The Estimated Book, Uniform, and Supply fees reflect the Manufacturer's Suggested Retail Price totals compiled in December 2022 and are subject to change.
2 Technology Fee includes student technical support, Office 365, blended and online course delivery/learning management system, mobile app, student portal technology and access, and required electronic course materials/software.
3 The General Education Resource Fee includes costs associated with ATI Smart Prep materials. The General Education Resource Fee will be waived for Active Duty, Active Duty Spouse, Reserve, Reserve Spouse, Veterans, Veteran Spouse, Department of Defense employees, dependents utilizing parent's veteran's education benefits, and Veterans Affairs employees.
4 The purpose of the Cost of Attendance (COA) is to provide students and families with an estimated cost to attend West Coast University. The COA includes both direct and indirect cost estimates. Direct costs are paid directly to West Coast University and are shown separately for each program. Indirect costs are not paid to West Coast University and are estimates students may use to budget expenses they may incur while attending school. While actual indirect costs may vary, West Coast University estimates these amounts based on the number of months in an academic year and whether students will live with parents or off campus.
Note 1: Students who wish to take Challenge Exams will be subject to a fee of $100 for each Challenge exam. Please see the campus Bursar Office for a full price listing.
Note 2: Course Audits - If a course(s) is being audited. Credits for these courses will be included for the student's schedule status for billing, based on the schedule statuses and amounts shown above. Pre-licensure Nursing students should refer to the program's Dismissal Policy for information surrounding course auditing.
Admission Requirements
Applicants to the Associate Degree in Nursing program must:
Submit a completed application for admission
Submit a WCU approved documentation of high school graduation or equivalent

Foreign high school diplomas/credentials or their equivalent must have an official evaluation performed by an approved organization

Participate in an admissions interview arranged by a University admissions advisor.
Achieve a HESI composite score of 80 or higher.

HESI exam scores must be within three (3) years of enrollment date
HESI exam scores below 80 are denied admission
Examination Retake Details

BSN applicants will have a maximum of two attempts, a week apart, to successfully pass the admissions exam
If an applicant does not pass the admissions exam after two attempts, he or she must wait a period of 1 months to retest and must provide proof of remediation

Additional acceptable external scores are eligible for full admission

TEAS score of 58.7 or higher

TEAS exam scores must be within three (3) years of enrollment date

SAT score of 1044 or higher or ACT score of 21 or higher

SAT or ACT must be within three (3) years of enrollment date
WCU only collects Verbal and Quantitative scores for SAT and ACT

Complete an enrollment agreement (must be signed by a parent or guardian if the applicant is under 18 years of age)
Submit documentation of an earned science baccalaureate degree or higher, an MD degree, and/or submit HR documentation from a Clinical Healthcare Partner that shows that the prospective student is already working in a direct or indirect medical patient care position.

LPN applicants are not required to submit earned science baccalaureate degree or higher but must provide proof of an unencumbered license to practice as a vocational nurse in Florida as well as official transcripts from completed LPN program

If a foreign high school diploma is provided as proof of graduation for non-English speaking countries, proof of English proficiency is required by providing one of the below:

TEAS exam scores of at least 69.0% in Reading and 60.0% in English and Language usage,
TOEFL (minimum 500 PBT, 61BT – paper based, internet based),
IELTS (minimum 6.0 on speaking and writing),
Pearson Test of English (minimum of 44; or level 3, 4, or 5 of PTE – general test),
Eiken English Proficiency exam (minimum Pre-1 grade),
Exams identified within the Common European Framework of reference — Cambridge English: FCE-grade of C or better; or CEFR-B-2 level,
CLEP minimum score of 50 in College Composition or College Composition modular,
Graduate with a C or better from an English as a Second Language (ESL) program, or obtained grades of C or better in college-level English course taken at an accredited English-speaking post-secondary institution.
Academic Calendar
New academic terms begin, on average, every 10 weeks. The number of semesters required for your program depends on the program pace you choose. For the most updated list of term start and completion dates, view the Academic Calendar.
Simulation Centers
Master Your Skills in a Safe Environment
The technologically advanced simulation labs at WCU-Miami help you practice using the same equipment you'll encounter on the job as an RN. You'll get to work through a variety of scenarios in:
Medical and surgical units
Pediatrics
Maternity/OB
Mental health
The simulation labs are equipped with high-fidelity manikins that bleed, cry, sweat, and even give birth! They provide an opportunity for students to practice and build confidence, learning how to respond to any situation they might encounter on the job.
Clinical Placements
Helping You Find a Local Clinical Placement
Your clinical experiences are one of the most exciting and impactful parts of your education. At WCU-Miami we're here to support you every step of the way.
One way we do this is by building clinical relationships with a variety of healthcare facilities in the Miami area. This means that we can help you find a location when the time comes or help you complete the process of vetting and approving a clinical location of your choice.
Additionally, you'll have a Clinical Placements team at your disposal to help you track your clinical hours. We're here to help!
NCLEX Support
Individualized NCLEX Preparation
Our goal is to help you prepare to pass your licensure exam, and this means giving you the tools you need to review materials, tackle difficult subjects, and develop confidence.
As a WCU-Miami student, you'll get access to diverse study resources, including:
NCLEX advisors who provide individualized guidance
Bootcamps to help you study and review before your exam date
Tutoring to help you master difficult topics
Practice exams and a library of study books and videos
Career Services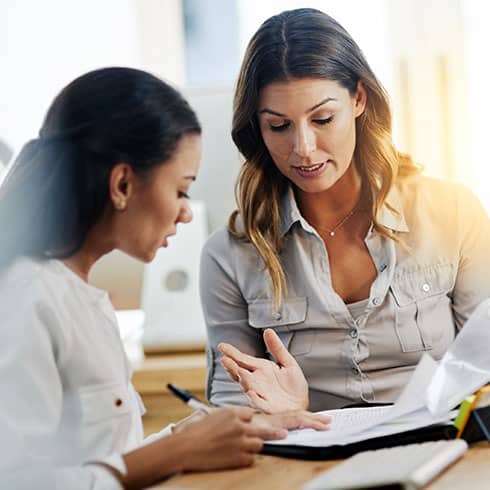 Aiding You in Your Job Search
Meet our dedicated Career Services team!
As a WCU-Miami student or graduate, you get access to a Career Services department that offers a variety of career tools and one-on-one advice. They'll help you locate job leads, provide interview coaching, help you workshop your resume, and more!
Career Services is your one-stop hub for career advice and professional development.
FAQs
How long does it take to earn an ADN degree?
You can earn your ADN degree at WCU-Miami in as little as 20 months. However, you can streamline your degree further by transferring credits from your previous education. For example, if you are an LPN with an unencumbered LPN license, you are eligible to receive up to 10 transfer credits for your LPN coursework. If the full number of eligible credits are transferred, you may complete the program in as little as 17 months — that's less than two years!
What's the difference between a licensed practical nurse (LPN) and a registered nurse (RN)?
LPNs and RNs work side by side in many of the same settings. However, the tasks they perform day-to-day may differ. LPNs are focused on providing basic medical care, including checking vital signs, changing bandages, and helping patients bathe or dress.3
RNs, meanwhile, take a more active role in coordinating patient care and educating them on their conditions. Their tasks may include administering medicines and treatments, setting up care plans, helping perform diagnostic tests, and teaching patients how to manage their illnesses.4
Our Associate Degree in Nursing prepares you to become an RN. We also offer a pathway for current LPNs who want to earn their RN license.
What previous education do I need in order to enroll in the ADN program?
As part of your application process, you will need to submit proof your high school diploma or equivalent. Additionally, you must submit documentation of an earned science bachelor's degree or higher, an MD degree, and/or submit HR documentation from a clinical healthcare partner that shows you are working in a direct or indirect medical patient care position.
LPN applicants do not need to have their bachelor's degree, but must provide proof of an unencumbered LPN license in Florida as well as official transcripts from a completed LPN program.
Can I become a registered nurse after completing the ADN program?
Program graduates are eligible to take the NCLEX-RN! This is the licensure exam for registered nurses. Once graduates pass this licensure exam, they become RNs.
Our ADN program helps prepare you to approach the exam with confidence. As a WCU student and graduate, you get access to a variety of tools and resources that help you study for the exam, including no-cost tutoring.
Is financial aid available?
Financial aid and scholarships are available for those who qualify. We have dedicated financial advisors who can help you through the application process, including answering questions about the FAFSA and helping you understand your options.
For information on the institutional grants available for the WCU-Miami campus, please visit the Undergraduate On-Ground Scholarships and Grants page on our online catalog.
And for more information on other forms of financial aid available, visit our Financial Aid page.
Financial aid and scholarships are available for those who qualify.
1Bureau of Labor Statistics, U.S. Department of Labor, Occupational Outlook Handbook, Registered Nurses
2WCU provides career guidance and assistance but cannot guarantee employment.
3Bureau of Labor Statistics, U.S. Department of Labor, Occupational Outlook Handbook, Licensed Practical and Licensed Vocational Nurses, "What They Do."
4Bureau of Labor Statistics, U.S. Department of Labor, Occupational Outlook Handbook, Registered Nurses, "What They Do."
West Coast University uses cookies to operate our sites and enhance the user experience.
By continuing to use our site, you consent to this condition of use. For more information, please review our
Privacy Policy
.