On-Campus Nursing & Healthcare Programs
We Innovate So You're Better Prepared to Care
Immersive learning — Combine our technologically advanced simulation labs with off-site clinical experiences to practice your skills and build confidence.
Multiple pace options — Most programs have Accelerated and Working Professional paces available, and some offer an Evening and Weekend option.
1,000+ clinical partners — We have a large network of partners with clinical sites throughout Texas, Florida, and California.
Request Info
Personal Information you submit through our Sites, such as your name, address and other contact information, may be collected by West Coast University for internal marketing and development purposes as well as to respond to your inquiry, complete a transaction for you, or fulfill other forms of customer service. You can choose not to receive marketing from us by "unsubscribing" using the instructions in any marketing email you receive from us.
Campus Culture
Join a diverse community of passionate and dedicated individuals. With a culture that feels like a family, you will have all the support you need to be the best you can be. Join a study group to learn from your classmates or get some guidance through peer tutoring sessions. With small classroom sizes, you'll have the opportunity to get to know your professors and gain insight into the healthcare industry. Find a community that helps you build on your strengths and reach your academic goals.
Why Choose WCU?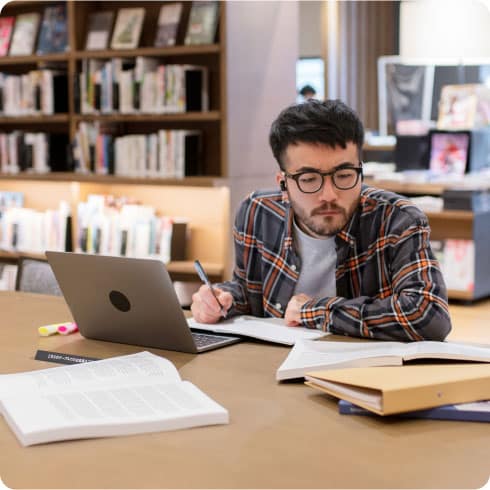 Academic Resources
Get access to library webinars, no-cost tutoring, and more!
Simulations
Master your skills in a safe environment with our simulation labs.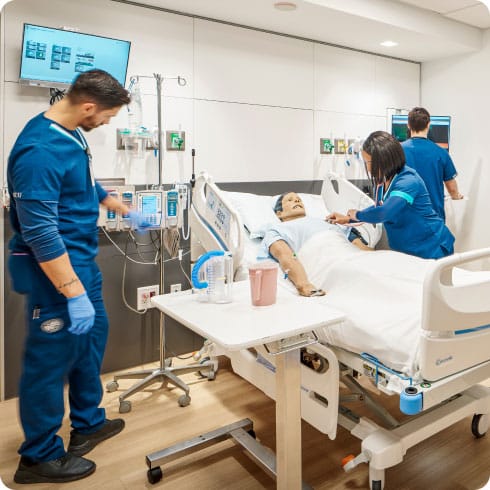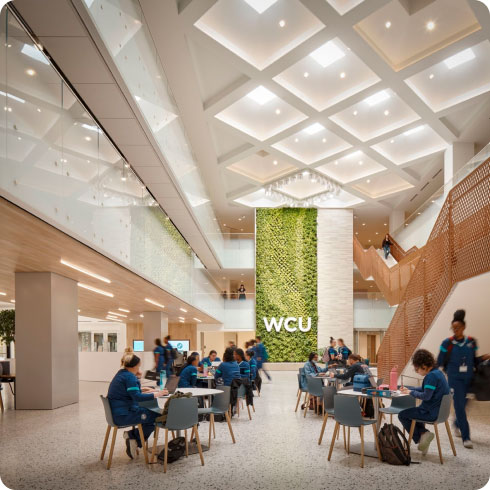 Student Life
From group study areas to Career Services, our campuses are designed for your success.
Alumni Network
Join a community of more than 50,000 professionals.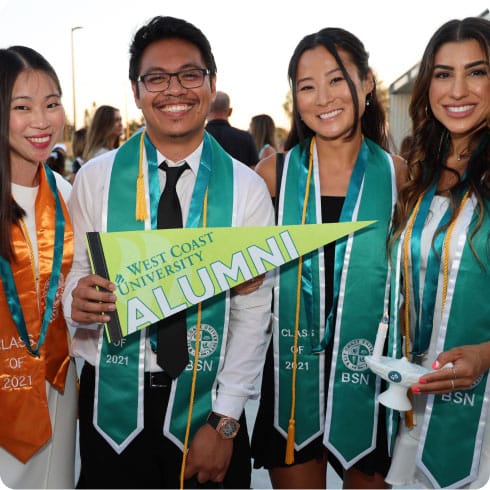 Learn How WCU Prepares Its Students For Success
How Can I Afford My Degree?
It May Be Easier Than You Think
Cost shouldn't stand in the way between you and your educational goals! In addition to our competitive tuition rates, there are also many opportunities for financial support, such as the following:1
Financial aid
Scholarships
Grants
Employee assistance programs
Cost savings from transferred credits
Reduced rates for military personnel
Our financial aid counselors and admissions advisors can help you determine what type of aid or assistance you may be able to use. We're here to provide you with the guidance you need!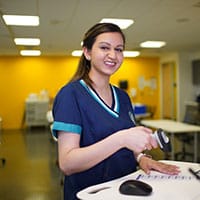 "WCU gave me the resources that I needed for me to be successful out in the real world.2"
– Radha D. BSN '20 West Coast University Texas
FAQs
What campus programs are offered at West Coast University?
We offer a variety of healthcare education programs ranging from bachelor's to doctorates. We have programs in nursing, dental hygiene, physician assistant, occupational therapy, physical therapy, and pharmacy.
What can you expect from WCU simulation labs?
Our simulation labs help you practice your skills and build confidence in a safe environment. They are equipped with high-fidelity manikins that cry, sweat, and react like real patients. They can even give birth! You'll be able to work through real-world scenarios while getting feedback from your peers and professors.
Does West Coast University offer part-time options for working students?
Different programs offer different paces. For example, the Bachelor of Science in Nursing program at WCU-Miami offers a Working Professional pace that allows you to spread out coursework and take fewer classes at a time. Programs might also offer an Evenings & Weekends and Accelerated pace.
Does West Coast University accept transfer credit?
Yes. We can evaluate your transcripts for transfer credits. Talk to an admission advisor to learn more.
Does WCU offer financial aid?
Yes. Financial aid and scholarships are available for those who qualify.

WCU Is Accredited!
West Coast University is institutionally accredited by WSCUC,† and our nursing programs are programmatically accredited by CCNE.††
Have Questions?
Pursuing your degree is a big choice. Fill out our form and one of our admissions advisors will contact you to answer any question you may have!
1Financial aid and scholarships are available for those who qualify.
2The opinion is the individual's sole opinion and not necessarily representative of that of the school, any instructor or any other student.
†West Coast University is accredited by WASC Senior College of University Commission (WSCUC), a regional accreditation body recognized by the U.S. Department of Education (USDOE) and the Council on Higher Education Accreditation (CHEA). 1001 Marina Village Parkway, Suite 402 Alameda, CA 94501, (510) 748- 9001/ https://www.wscuc.org/
††The baccalaureate and master's degree programs in nursing and post-graduate APRN certificate at West Coast University are accredited by the Commission on Collegiate Nursing Education (http://www.ccneaccreditation.org).
West Coast University uses cookies to operate our sites and enhance the user experience.
By continuing to use our site, you consent to this condition of use. For more information, please review our
Privacy Policy
.
Call