Our students and instructors are here to provide excellent dental hygiene care to the community through our free dental clinic.
Excellent dental hygiene care–free to the community.
Our no-cost Dental Hygiene Clinic is a teaching facility offering a variety of services for adults and children, delivered by both students and supervising dental hygienists and dentists.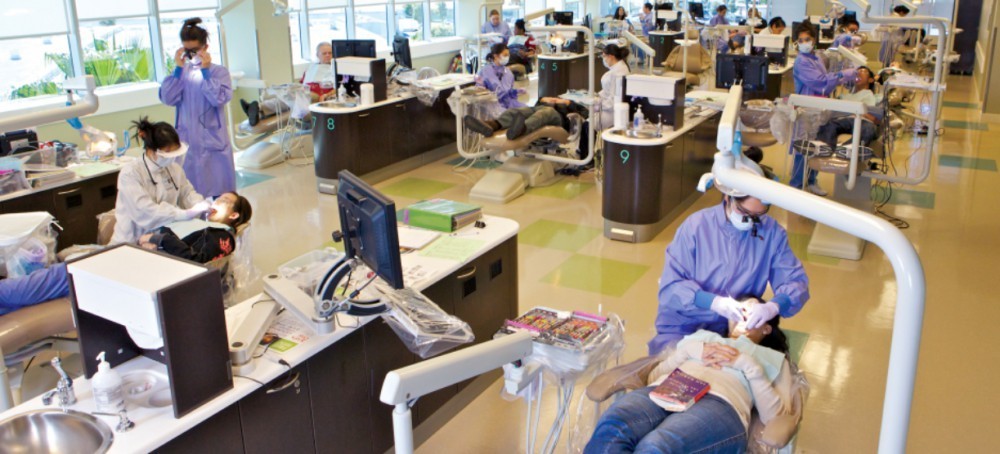 Dental Hygiene tells us a lot about your overall health, and these free exams at our community dental hygiene clinic often uncover issues that may otherwise go unchecked.
All members of the community are welcome, regardless of income. The West Coast University dental hygiene clinic has more than 15,000 patient visits a year. All we ask in return is your time so that our students can continue to advance their skills.
What are the benefits of WCU's Dental Hygiene Clinic?
Our community dental hygiene clinic's services are offered free to the recipient–all ages are welcome
The students who provide these services are supervised by registered dental hygienists and dentists
We want to provide oral health services to all members of our community
We think it is important that every smile be a healthy smile
We believe families should receive dental hygiene services regardless of income
We offer the following services to our patients free of charge:
Medical & Dental History Review
Oral Inspection
Risk Assessment
Oral Hygiene Education & Instruction
Nutritional Counseling
Tobacco Cessation Counseling
Digital and Traditional Imaging (X-rays)
Application of Pit & Fissure Sealants
Application of Interim Therapeutic Restorations
Fluoride Treatment/Therapy
Tooth Desensitization Procedures
Study Model for Interpretation and Tray Fabrication
Prosthesis Care for Partial and Full Dentures
Periodontal Screening and Non-Surgical Periodontal Therapy (cleanings)
Call for your free appointment—(877) 928-2546
Our clinic is located on the 4th Floor at 1477 South Manchester Ave., Anaheim, CA, 92802.
Download our Clinic Information Flyer:
About WCU
With more than 100 years of education experience, West Coast University has become a leader in healthcare education. It's from this experience that we've created focused and distinctive programs providing our students with some of the most comprehensive and respected degree programs available. As part of the culture of healthcare at West Coast University, the Bachelor of Science in Dental Hygiene program has been designed to provide students with the knowledge, skills, and values needed to become exceptional healthcare professionals and providers. The program is accredited by the Commission on Dental Accreditation (CODA) of the American Dental Association and is one of only six Bachelor of Science programs in California, as well as the only program of its kind in Orange County. As part of the Dental Hygiene program and with West Coast University's strong commitment to its local community, the West Coast University Dental Hygiene Clinic has been established to not only educate our students as future dental hygienists but also give back to our community and those we share it with. It is because of this commitment and determination we proudly offer all services at no charge to our patients.
About WCU Clinic
The West Coast University Dental Hygiene Clinic is an invaluable community resource dedicated to improving the oral health of the local community. With a dedicated faculty and staff working with students to help them achieve the hands-on experience needed to complete their education, the West Coast University Dental Hygiene Clinic works to improve the dental health of those who may not have the means to visit a private practice dental facility for dental hygiene preventive and therapeutic care. The West Coast University Dental Hygiene Clinic has been designed to provide patients with a quality experience. From the technologically advanced facility that has been constructed with 30 clinical care areas including 10 dedicated radiology/X-ray areas for traditional and digital imaging including panorex X-ray equipment to on site sterilization that meets or exceeds OSHA standards. The West Coast University Dental Hygiene Clinic is also a dedicated "paperless" facility with all records being stored electronically not only allowing for easy transfer to a patient's new or regular dental facility or office, but it also lessens our carbon footprint which is good for all of us. Each component of the facility has been designed to provide clinic patients with top quality services using advanced technology and — best of all — at no cost to them.