Nursing is a highly respected profession. Nurses perform care that includes both hard science and human insight — their presence is both authoritative and reassuring. But beyond the stethoscopes and charts we've come to associate with nurses, there is a lot of rich history and surprising nursing facts you probably don't know.
In celebration of nurses and all they do, we have compiled five interesting facts about these essential healthcare professionals. Whether you're considering becoming a nurse or you're just curious to know more about the field of nursing, here is some fascinating information to add to your knowledge bank.
Check out this infographic and then read more details about each nurse fact below.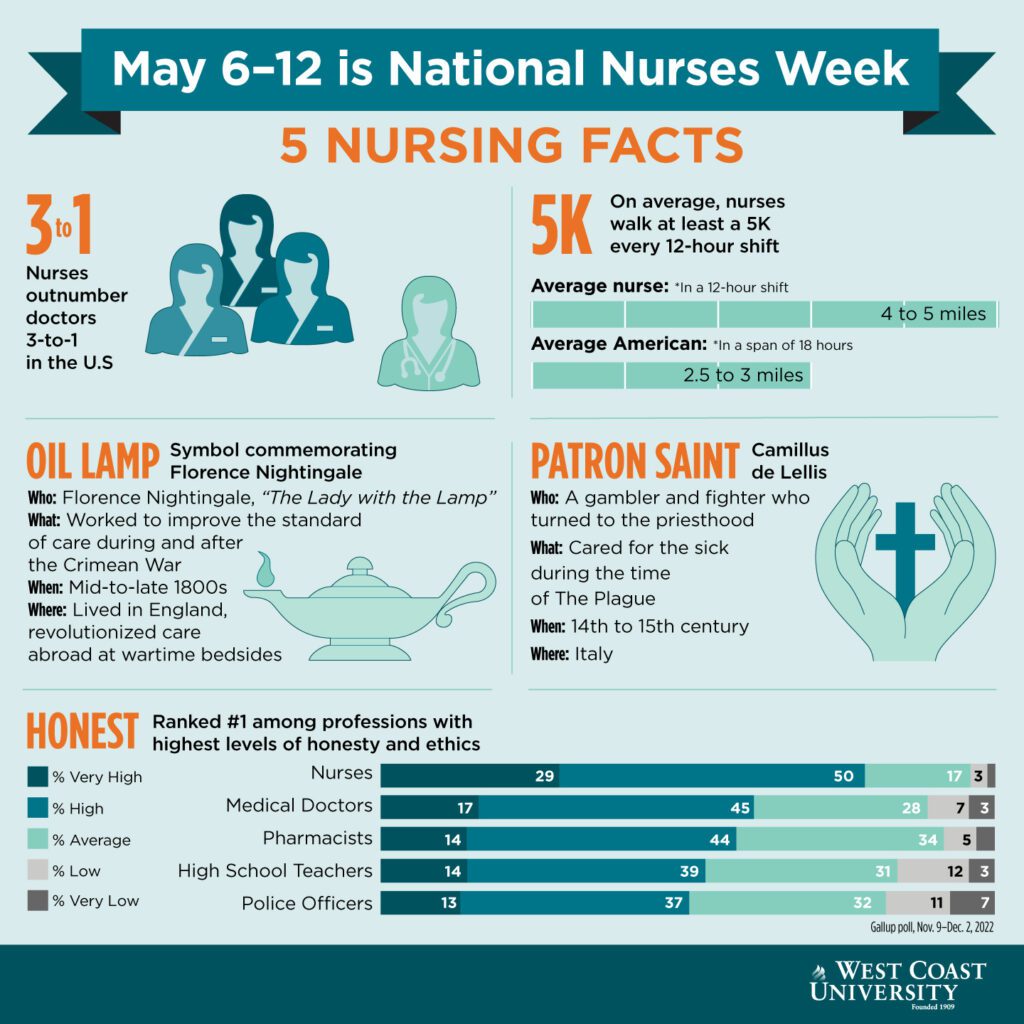 Sources: American Association of Colleges of Nursing, TravelNursing.com, History.com, Franciscan Media, Gallup
1. Nurses Outnumber Doctors 3-to-1
Here's an interesting nurse statistic: According to the American Association of Colleges of Nursing (AACN), there are more than three times as many nurses as physicians in the United States. The omnipresence of nurses in almost all healthcare settings makes them a familiar and reassuring sight for patients seeking care. (See below for how much patients trust nurses.) But there are many reasons for the need for so many nurses in healthcare.
In addition to the essential nurses in common facilities like hospitals, you can find nurses in many settings where there may not be a doctor at all: schools, long-term care residences, in-home care, and even private practice. (Advanced practice registered nurses (APRNs) at the nurse practitioner level are allowed to practice independently in some states, often performing the same function as a primary care physician themselves.)
2. Nurses Walk a 5K Every Shift
Nursing is fantastic exercise! One study that fitted working hospital nurses with pedometers found that nurses walk an average of 4 to 5 miles in a 12-hour shift. So at least a 5K! In comparison, most Americans walk an average of 2.5 to 3 miles over the span of 18 hours. Hospital nurses are constantly on the move, making rounds and responding to ongoing and often unpredictable circumstances.
For the busy nurse, this can be good news — you're getting your exercise while you work, and a lot of it. Consider it a hidden perk of the job, since you're benefiting your own health while you tend to the health of others.
3. The Symbol of Nursing Is an Oil Lamp
You might have heard of Florence Nightingale, arguably the most famous nurse in history and the founder of the nursing profession. But did you know she was called "The Lady with the Lamp" and was the inspiration for the iconic symbol of nursing, the oil lamp? During the Crimean War of the mid-1800s, Nightingale would tend to wounded soldiers and made her rounds with an oil lamp, hence the nickname.
Nightingale is particularly credited with creating standards for the conditions for care. She found the treatment setting conditions deplorable when she arrived in the medical tents during the war and transformed them into clean and efficient facilities. Nightingale's legacy remains to this day, with care environment being one of the central purviews of the modern nurse.
4. One of the First Nurses Was a Saint
Nursing has its own patron saint! Saint Camillus de Lellis was beatified by Pope Benedict XIV in 1742, but he was caring for the sick in the 14th and 15th centuries. Camillus has an interesting history — he wasn't always dedicated to the health of others, or even his own health. Before he found his calling, he was actually a bit of a troublemaker.
In his early adulthood, Camillus was a gambler and fighter and eventually lost everything he owned. But he changed his ways and went on to dedicate his life to the priesthood in the time of The Plague. He organized troops in Hungary and Croatia, caring for the sick and the communities ravaged by the illness.
5. Nursing is the "Most Trusted" Profession
According to the 2022 Gallup poll of honesty and ethical standards, nurses are trusted more than any other profession by the public. In fact, nursing has topped the list every year since it was first included in the poll in 1999, with the exception of 2001, when firefighters deservedly earned the top trust rating in the year of 9/11.
Are we surprised that nurses are so universally trusted? Not at all. Nurses already have a reputation for empathy and compassion and are often the most familiar and consistent face during a patient's treatment. The nurse-patient relationship deeply depends upon trust, and those who choose to become nurses are driven by the highest ethical standards and compassion.
Bonus Fact: May 6-12 Is National Nurses Week!
Nurses deserve our appreciation and admiration year-round, but they also have a week dedicated in their honor: National Nurses Week! This week of recognition is a great time to tell that nurse in your life — whether it's the nurse at your regular physician's office, a friend or family member, or even yourself — how much their important work means.
To nurses and aspiring nurses: Every week is Nurses Week at WCU! We're dedicated to educating tomorrow's nurses and recognizing the grit and determination that this vital profession requires — and we've been doing it for over 110 years. Nurses are our heroes; we care because you care.
We invite you to explore our online nursing and campus nursing programs today, and get to know our vision for your future in healthcare.
---
WCU provides career guidance and assistance but cannot guarantee employment. The views and opinions expressed are those of the individuals and do not necessarily reflect the beliefs or position of the school or of any instructor or student.