"When you really want to learn something or become competent in an area, you immerse yourself in that and it becomes you."
Raquel N. lived by those words during her time at West Coast University. By fully immersing herself in her education, she volunteered, tutored, and acted as Vice President of the Student Nurses Association.
"West Coast was like a family to me," Raquel said. "I was there every single day. I was always in the library or study area."
However, Raquel almost didn't get her West Coast University experience. Initially, she was enrolled at another university before switching to WCU for the bridge LPN to RN program.
"I fell in love with the campus and the program," Raquel shared. "It was everything I was looking for."
Getting Involved
After sitting down her family and explaining her plan, they decided to move from their home in West Palm Beach to Miami so Raquel could enroll. In April 2017, Raquel began her Bachelor of Science in Nursing program at West Coast University – Miami.
"I was all in," Raquel said. "I started fully engaging myself in school and their extracurricular activities like tutoring."
Almost immediately, Raquel's professors recognized her talent in the field and classroom. She started tutoring other students in chemistry and pathology, after being nominated by both professors. She also became a PAL (Peer Assisted Learning) tutor.
Raquel said the nursing career has been a great fit for her since she loves helping people and the job's versatile nature.
"You don't have to just work in the hospital," she said. "I don't want to be stuck in one bracket. That's why I went to pursue my nurse practitioner [license], too."
Raquel is currently pursuing a yearlong nurse practitioner program on a full scholarship. Once she completes the program, Raquel will have more autonomy as a provider. This will make a difference in how she is able to care for her patients.
Mentoring Others
Throughout her journey, Raquel has given back to her West Coast University community. She is an active member of the Alumni Association and shares her experience and answers questions for current students. She noted the importance of mentorship for all nurses, but especially those new to the field.
"A lot of my peers were 20 years younger than me. The youngest was 18," Raquel said. "You don't really know what you want to do when you're that age. It's great to have a mentor."
Raquel emphasizes that prospective students should enter the nursing field for the right reasons. Although it is rewarding career, she notes it is one with great responsibility and room for error.
"You want competent nurses who aren't in there just for a paycheck or to wear the scrubs," she said. "You want them to be competent and compassionate and love what they do. You aren't going to have a good day every day… but you're there because you want to make a difference. I don't think they really know those things unless they are taught or mentored."
Raquel graduated with her Bachelor of Science in Nursing degree in June 2020. She was proud to graduate with the highest grade point average in her cohort. Since leaving WCU, she has maintained close relationships with her peers and professors.
"I am so proud to be a West Coast University grad. They take you and raise you like a baby chicken. They feed you and nurture you," she said. "I have never heard of a school being that involved with the student. It's family. It's camaraderie. It's unity."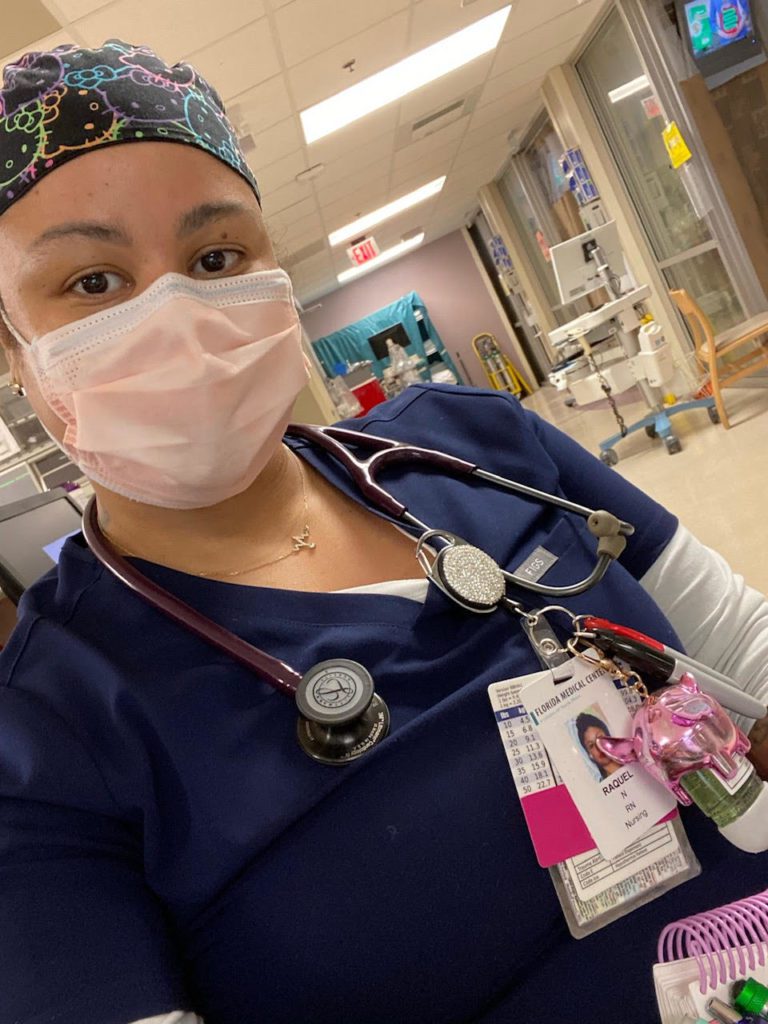 ---
WCU provides career guidance and assistance but cannot guarantee employment. The views and opinions expressed are those of the individuals and do not necessarily reflect the beliefs or position of the school or of any instructor or student.