Having been a student in West Coast University's Doctor of Physical Therapy program, Jennyfer Oh now enjoys being on the other side of the desk.
"I still remember being a student," Jennyfer said. "As an assistant professor, I want my students to know that I'm still going to be a resource and a mentor after they graduate, like my professors were for me."
Jennyfer was a part of the first DPT cohort at the Center for Graduate Studies and graduated in 2017. Recalling her time in school at WCU, Jennyfer said she loved her cohort's camaraderie and the opportunity to provide direct feedback to her professors.
"They had a really strong open-door policy and were really supportive in making sure we succeeded," Jennyfer said.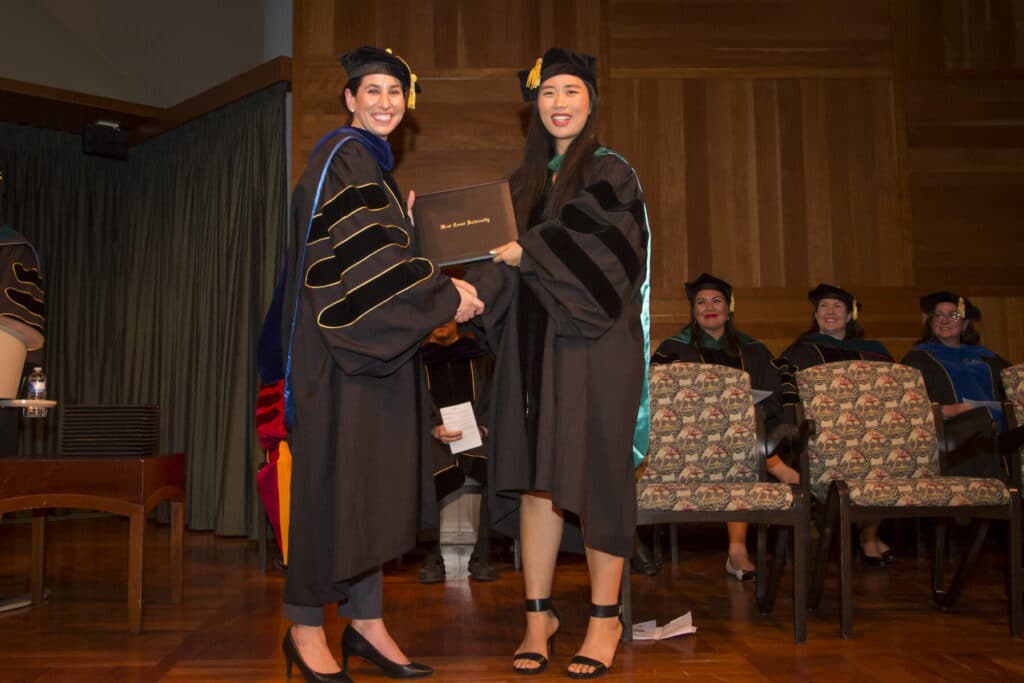 Currently a board-certified neurologic clinical specialist, Jennyfer first decided to pursue PT while volunteering at a patient rehab center.
"Seeing how much change a patient can make in just a span of two weeks and how involved the PT was in that process made me fall in love with it," she said.
Since graduating as the program's inaugural valedictorian, Jennyfer has taught in local programs and guest lectured at WCU. She now works as a clinician at an in-patient rehab hospital, volunteers with an organization that educates the public about rehab and is an assistant professor for West Coast University's DPT program.
"I wanted to incorporate more teaching in my career," she said. "I want to actively be a part of educating future clinicians that are joining us in the field."
Returning to her old campus as an assistant professor has led Jennyfer to appreciate the day-to-day decisions all instructors make as educators.
"It's a tough balance," Jennyfer said, "but the students have to know that the assistant professors really want to do what's best in order to prepare them."
---
WCU provides career guidance and assistance but cannot guarantee employment. The views and opinions expressed are those of the individuals and do not necessarily reflect the beliefs or position of the school or of any instructor or student.